Jemmet Mainwaring, Captain of HMS Babet.
Capture of Pomone, Engageante and Babet. Thomas Whitcombe (British, born circa 1760-died circa 1824).
Jemmet Mainwaring, Captain of HMS Babet - Anglo-Russian Invasion of Holland in 1799:
.
.
.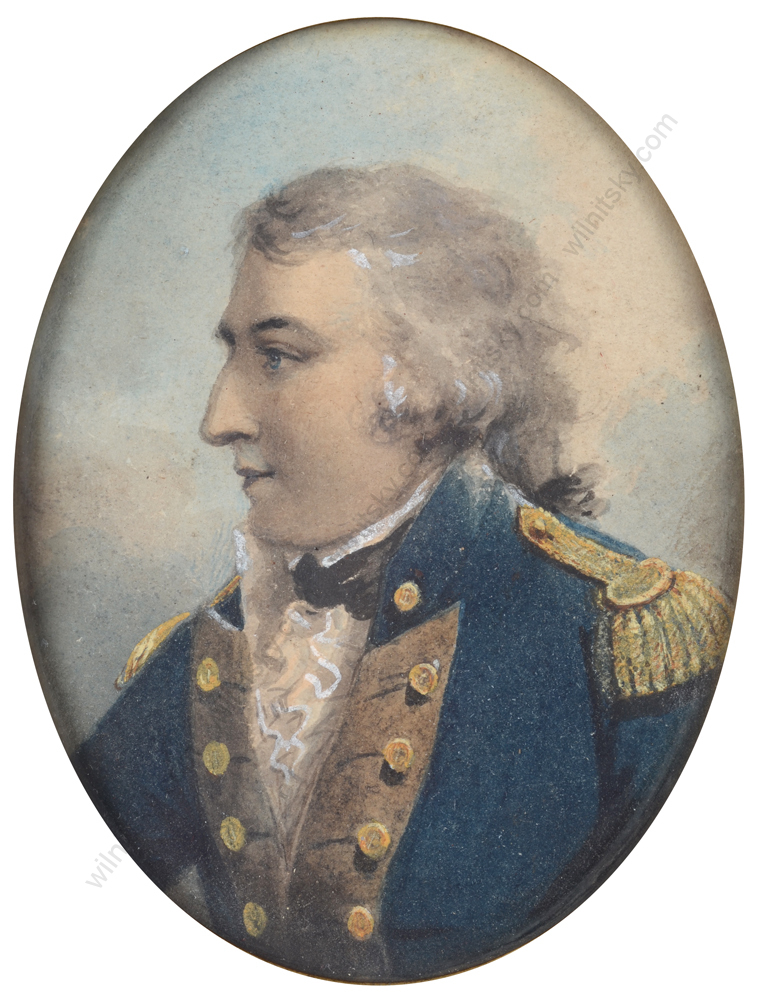 .
.
.
http://www.ebay.com/itm/Jemmet-Mainwaring-Captain-of-Babet-Anglo-Russian-Invasion-of-Holland-in-1799-/271597868309?pt=Art_Paintings&hash=item3f3c7e9515
"Painted in ca. 1790 (according to sitter's hair-style), this miniature is an extremely rare (and probably the only surviving) portrait of celebrated English Navy captain Jemmet Mainwaring.
He was a member of the old family of Mainwaring of Whitemore. In 1796 he became the captain of (captured in 1782 by England) French frigate "Aimable" (see our image nr.9). In the same (1796) year, on the 23rd of July, his ship defeated by Guadeloupe in the Caribbean Sea the French frigate "Pensee" (see our image nr.10). In June 1797 he was appointed Captain of HMS "Babet", another former French corvette captured in 1794 (see our image nr.11). It was a 20-gun, sixth-rate, post ship of Royal Navy. On this ship, Captain Jemmet Mainwaring participated in the Anglo-Russian Invasion of Holland in 1799. Unfortunately, he did not have the occasion to command this ship for too long. On the 14th of September 1801 "Babet" arrived at Fort Royal Bay, Martinique and sailed the next day for Jamaica. She was not seen again; she had probably foundered at sea during a tropical storm with Captain Mainwaring and 140-men crew. No trace of her was ever found. ..."
HMS Babet (1794):
http://en.wikipedia.org/wiki/HMS_Babet_(1794)
Jemmett Mainwaring (d. 1801):
http://threedecks.org/index.php?display_type=show_crewman&id=10119
On the death of
General Knox, and
Captain Jemmet Mainwaring,
lost in the Babet in the West-Indies
by Henry James Pye, Esq.
WHEN, 'mid the thunder of th' embattled field,
Their lives in Albion's cause her warriors yield,
The never-dying breath of virtuous Fame
To glory consecrates each patriot name.
But shall no wreath of honour crown the brave,
Untimely whelm'd beneath the stormy wave?
Shall the firm veteran, who has dauntless stood
In many, a scene of carnage and of blood ;
Shall the bold youth, who hostile coasts explor'd,
Where louder than the surge the battle roar'd;
Cold in the oozy caverns of the deep,
Sung by no mule, in dark oblivion steep?
No!—they shall live to Fame, to Friendship deaf—
Live still in Valour's sigh, and Beauty's tear.
http://books.google.com/books?id=G7g8AAAAIAAJ&pg=RA2-PT217
Major-general the Hon. John Knox (1758 - 1801):
"2. Major-general the Hon. John Knox, who served in the expedition to Holland, under the Duke of York, and was selected by his Royal Highness to conclude the armistice at Alkmaar, between the English and French armies; he was afterwards unfortunately lost at sea, unmarried."
http://books.google.com/books?id=2yU3AAAAYAAJ&pg=PA567
http://en.wikipedia.org/wiki/John_Knox_(1758%E2%80%931800)
http://geneagraphie.com/getperson.php?personID=I1409107&tree=1