Re: Stuff. Anyone able to add to descriptions?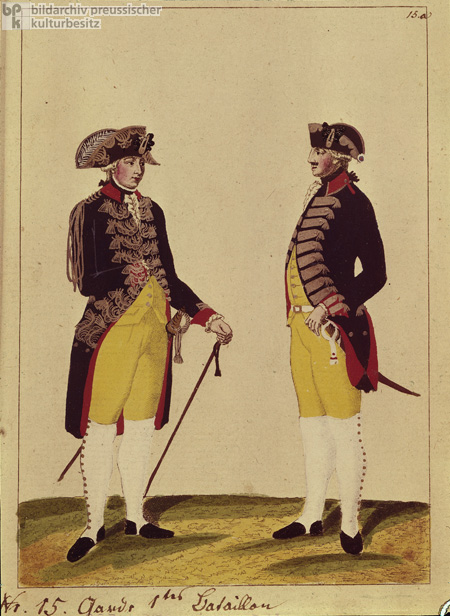 "The introduction of standardized military uniforms went hand in hand with the establishment of standing armies in the second half of the seventeenth century. Distinctive uniforms played an important role in fostering the soldiers' sense of identification with the state and the general population alike. This image of Prussian uniforms (c. 1785) depicts an officer (left) and a grenadier (right) from the First Guards Battalion No. 15. Apart from the officer's longer coat and more elaborate ornamentation (and the officer's cane and rapier instead of saber), the garments are very similar in both color and basic design. Such commonalities heightened the esprit de corps among enlistees and officers alike. Colored etching by an unknown artist, late eighteenth century. "
.
.
.
.
Die Achenbach-Bilderhandschrift 1813/14: "Abbildung des grosherzoglich hessischen Militair"
(1993) by Klaus Schäfer. 276 pages.
.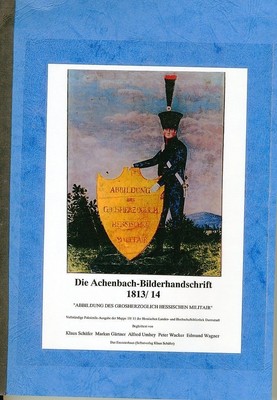 .
.
.
.
Preußen. Schlesische Landwehr, Zeit nach der Schlacht an der Katzbach. Unteroffizier. Wehrmann.
Altkolorierte Lithographie. Beilage aus "Zeitschrift der Soldatenfreund". Hrsg. von Louis Schneider.
Aus der Zeit von 1852 - 1870. Größe der Uniformdarstellung ca. 11,5 x 18 cm.
.
.
.
Preußen. "von Favret". .Altkolorierter Kupferstich von Horvath, zum Teil mit Gold und Silber gehöht,
aus "Preußische Armee - Uniformen unter der Regierung Friedrich Wilhelm II., Königs von Preußen. Potsdam, Horvath, 1789".
Größe der Uniformdarstellung ca. 10 x 14,5 cm. Bibliographischer Hinweis
bei Colas 1484 und Lipperheide Qdb. 11 ca. 11 x 14,5 cm.
.
.
.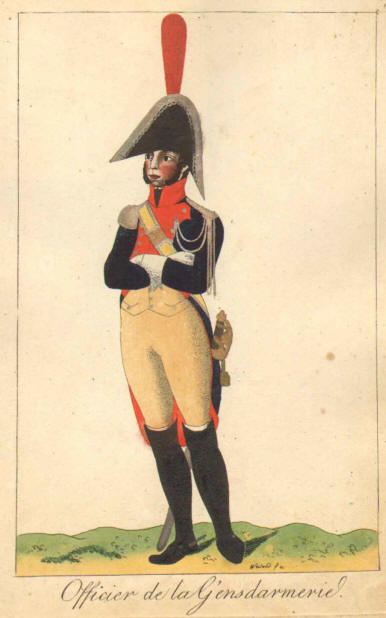 Frankreich. Officier de la G'ensdarmerie. Aus C. F. Weiland "Darstellung der Stärke und Organisation der
Kaiserlich Französischen Armee und ihrer Alliierten im Jahre (1807) und 1812 nebst 148 Kupfern.
ca. 11 x 17 cm.
.
.
.
England. General. Von William Henry Pyne aus "The costume of Great Britain" bei Miller, London 1805.
Blatt No. 41. 21 x 21 cm.
.
.
.